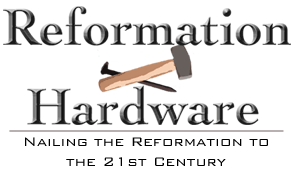 Introducing Reformation Hardware! Reformation Hardware is a store that offers a (growing) handful of Reformation related items, tastefully done. We're nailing the Reformation to the 21st century. T-shirts, mouse pads, stickers and bags with Reformation mottos and images.
And hey look, we're Martin Luther (at the Movies) approved!
Take a look at our general storefront. It currently has two images, the Reformation motto "The church reformed and always reforming" and St. Augustine's famous prayer "Demand what you will and grant what you demand." Both are rendered in Latin.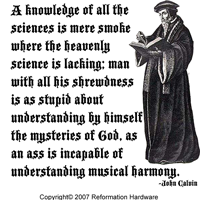 We have a John Calvin design. It is a great quote from John Calvin on the relationship of revelation, science and understanding. This storefront also has a mug with Jonathan Edwards' Resolution #44. Check the example to the right. There is also a generic Christian T-shirt design you'll probably like.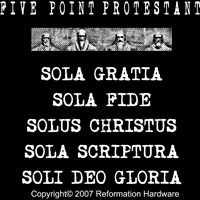 The newest addition is the Five Point Protestant design. This one is available exclusively on dark t-shirts and features a stylized image from Reformation Monument and the Five Solas of the Reformation prominently displayed. See the sample to the left.
Note: The copyright info does not appear on the products. It is only attached to these images so people will know where they came from is someone snags them from my site.