But God came to Abimelech in a dream by night and said to him, "Behold, you are a dead man because of the woman whom you have taken, for she is a man's wife." Now Abimelech had not approached her. So he said, "Lord, will you kill an innocent people? Did he not himself say to me, 'She is my sister'? And she herself said, 'He is my brother.' In the integrity of my heart and the innocence of my hands I have done this." Then God said to him in the dream, "Yes, I know that you have done this in the integrity of your heart, and it was I who kept you from sinning against me. Therefore I did not let you touch her. Now then, return the man's wife, for he is a prophet, so that he will pray for you, and you shall live. But if you do not return her, know that you shall surely die, you and all who are yours." – Gen. 20:3-7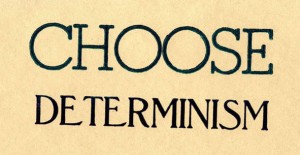 God prevented Abimelech from sinning. He acted to protect the promise he had made to Abraham and Sarah. God restrained Abimelech's evil, why didn't he do it for Sodom and Gomorrah in the previous chapter?
Why didn't he do it for all of humanity before the flood?
Why didn't he do it in the Garden of Eden with Adam and Eve before they fell?
Why doesn't he do it today for Eric Garner and the two cops killed in Brooklyn?
If God is able to restrain evil, as he demonstrated here, and yet he doesn't, does that mean he is wrong and at least complicit in the evil?
A few thoughts on this:
We are not robots. God spoke with Abimelech and Abimelech responded. Abimelech was a free moral agent in this transaction. God didn't make a race of robots, he made image bearers with whom he wants to have a relationship. "We are free to choose, but we are always a slave to our greatest desire." – Jonathan Edwards
When the men of Sodom saw the visiting angels, they attacked, unlike righteous Lot who sought to protect them. Noah preached righteousness as he built the ark and no one listened to him. God sent prophets to Israel and Judah and they ignored, imprisoned, and murdered them. God himself took on flesh and came to the world and Jews and Gentiles illegally nailed him to a cross. There is a measure of wickedness that can occur in the human heart which will cause a person to not listen to pleas for righteous behavior. We don't know that level but God does.
Evil came into this world through the voluntary act of Adam. God had already announced what the price of that would be: death. All of humanity is engaged in treason against him. God is not obligated to restrain evil caused by free moral agents. The situation he announced to Adam was that sin would be met with death. And yet, Adam and Eve ate the fruit of the tree and did not die in that day. God had mercy on them. It is mercy that God warned Abimelech or has ever warned anyone. But he did and he continues to.
God is no stranger to personal injustice. Jesus Christ was the most innocent, the least deserving prisoner ever executed. God entered into our suffering and sorrow. He does not stand aloof from it and look on as an uncaring voyeur. God can restrain and sometimes does evil but Jesus came and bore it in order not to just restrain it, though he is for a while, but ultimately to destroy it. To judge it as evil. He is reconciling everything through the blood of his cross.
At the same time, the Bible is clear that faith is a gift from God (Eph 2:8, Heb 12:2) and so is repentance (2 Tim 2:25). He appoints some to eternal life (Acts 13:48) and Judas was predestined to betray Jesus (Acts 1:16). God choses to grant faith and repentance to some but not all. In the end, God does deal with all sin, one way or another. Either in hell or at the cross of Christ.
So why didn't he restrain the evil in Sodom? It appears that Lot was resented in Sodom (Gen 19:9) so God may have been restraining it to some degree through Lot's presence. Also, God agreed to spare the entire city the punishment for their evil if there were ten righteous people found in it. But there weren't. God is not a sadist waiting to chuck another soul into hell. But he will not nod at evil either. Bottom line: Abimelech feared God and Sodom feared nothing.
In both Sodom and Gerar, where Abimelech was king, God dealt with evil. In Sodom, he judged it, in Gerar he restrained it. He doesn't sit idly by while evil ravages his creation and his creatures.