Sure, the Bible is a sharp blade that cuts bone in two but what happens when certain passages turn into bombs? Wouldn't it be great to find a way to defuse those verse-bombs that we drop on each other? They get lobbed all the time, especially on the internet. Well, here's an attempt to disarm one.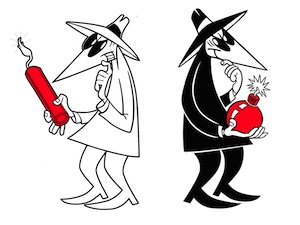 A friend recently linked to an article from The Junia Project1 written by Dr. Gail Wallace, an adjunct professor of Adult and Professional Studies at Azuza Pacific University. She has a PhD in education and seems like a very nice person overall. The blog post Gail wrote is titled "Defusing the 1 Timothy 2:12 Bomb." Gail is correct when she says in it that 1 Timothy 2 is often treated as a conversation stopper when discussing women's roles in the church and that shouldn't be so. Complementarian or egalitarian, if we are evangelicals we should be able to come to a text and discuss it and seek to understand and obey it. We should be able to do that without rancor and divisiveness so I am grateful for her efforts.
In good faith Gail opens that conversation by offering to "defuse" this explosive verse for us. She used what I consider to be a very clever metaphor for making her point: she shows us the "three wires" we need to cut in order to defuse the bomb; the "Translation Wire", the "Context Wire", and the "Interpretation Wire." In all, I thought it was a very helpful way to present her material. And even in this short blog post she provided a kind of bibliography at the end. Nicely done!
In the end though, I don't think she would last very long in a bomb squad. The wires she chose to cut didn't defuse the bomb but merely confused the issue with some poor arguments against the complimentarian understanding of 1 Timothy 2:12. The problem that Gail seems to have missed is that we can get so entrenched in our positions on issues that we cannot actually hear the other side of the discussion. In this post I take a look at each wire she sought to cut and show how attempting to cut them fails. In the end, I point to three wires we need to cut, not to defuse arguments against our commitments but in order to engage in real dialog on them.
Junia is mentioned in Romans 16:7 along with Andronicus as being "outstanding amongst the apostles" in the NIV. This is intended to prove that there were female apostles but ultimately it fails. The verse is translated "well known to the apostles" in the ESV which would not put Junia or Andronicus among the Apostles. Also, the way "apostle" is used in the New Testament is complex. There are the Twelve Apostles but then others are apostles. It may be that the way "apostle" is used in Romans 16 is more analogous to what we mean by "missionary." ↩
« older posts